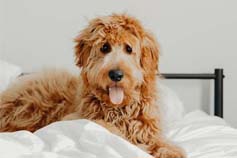 Our pups deserve a comfortable, safe, and stable place to call their own! Just as we humans turn to our comfy beds for some rest and relaxation, so too should our pets in their own beds and designated spaces.
While pet owners often place cushiony bedding at the bottom of their pet's crates, whelping boxes, and/or dog boxes, most don't realize that big box store cage pads often don't support all aspects of your dog's well-being. Instead, pet owners should consider vet fleece, vet bedding that is thick enough to offer support, durable enough to withstand day-to-day use, and more than useful in all stages of their pets' lives.
Here's what makes vet fleece better than the traditional cage pads often purchased at big box stores:
Thick & Hygienic
Lakeside Products' vet fleece is machine washable/dryable, bleachable, and designed with the sanitary health of your pet in mind. Approved and utilized by veterinarians, Lakeside Products' vet fleece is made with a unique blend of fibers made right here in the USA. These fibers are both thick and dense and are manufactured to wick away moisture, while providing your pet a soft place to rest. This material is non-allergenic, non-toxic, non-irritant, and will not support bacterial growth, unlike many pet beds purchased from big box stores.
Durable & Versatile
If you're worried about lugging around a thick and heavy piece of bedding, don't worry. Unlike traditional cage pads and dog beds, Lakeside Products' vet fleece will not unravel, is lightweight, and extremely durable. Additionally, the material is designed to keep your pet warm in the winter and cool in the summer and is versatile enough to be used indoors, outdoors, for kennel pads, as protection for furniture, upholstery, or as a great gripping surface to encourage the mobility of newborn pets. You and your pet will enjoy the ability to transport this piece of support and stability everywhere you go!
Medically Developed
Vet fleece or vet bedding, also used in hospital pads, were developed by the medical industry to be used by veterinary clinics, breeders, and pet lovers for a number of different health focuses, including orthopedic problems, incontinence, whelping, illness, surgical recovery, and the general well-being of animals. At whatever stage in life your pets may be, vet fleece offers a constant means of comfort and care during the entirety of your pets' lives.
So while the big box stores try to sell you on their cage pads, know that vet fleece is the top material in the market to support the health and well-being of your pet. This product is available for purchase from Lakeside Products, home to the best vet fleece in the industry, manufactured in the USA. A number of various sizes are available as well as a bulk supply to be customized to fit your pet's needs. Purchase yours today!