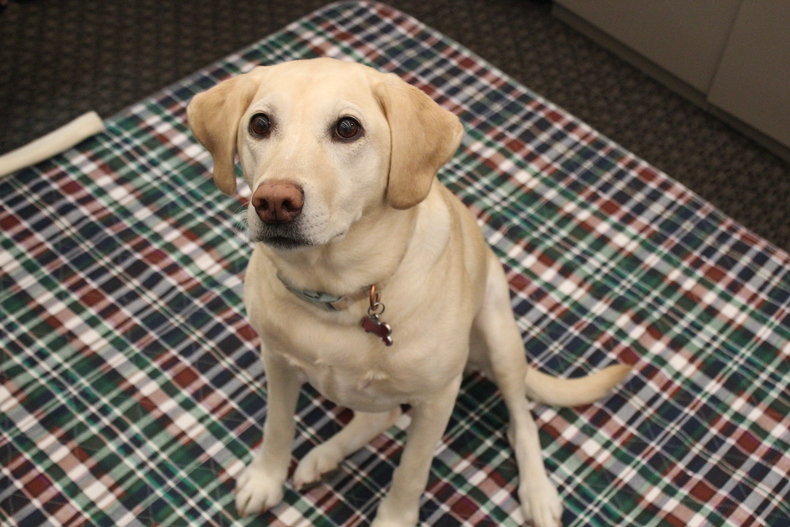 A popular saying is that you can't teach an old dog new tricks, but we disagree! When you have the right tools, you can train your senior dog to do anything, including using a potty pad when making it outside isn't as easy as it once was.
In fact, reusable, washable Lennypads were intended to be used at all stages of your dog's life – from newborn litters to silvery seniors. Not only are these pads efficient and sustainable, but they offer a comfortable space for your senior pup to do his or her business.
So how exactly do you teach your old dog to use these pet pads? We've got a few tips for you to try.
When you first begin training your dog to go potty on the pad, place it near their usual potty spot. This could be outside near their favorite tree or their go-to rock. Wherever it is, this will give your dog the opportunity to get acclimated to the material of the pad and its purpose.
When it's time to bring the pad inside, be sure to place it in an easily accessible spot in your home. If your senior dog struggles with stairs, place the pad in an area of the house where stairs aren't a part of the equation. Also make sure that the pad is placed in a quiet and comfortable space so your dog knows they can go in peace as he or she pleases.
Additionally, consider dabbing a bit of your pet's urine on the pad. This will give your dog a better idea that the pad is theirs to use and meant to be used for potty purposes.
Reward your pet with a treat when they do use the potty pad. This reinforces the behavior and will help make going potty on the pad a habitual act.
If your dog is entering a new stage in their life, Lennypads is here to help with any and all lifestyle adjustments. In addition to potty pads, Lennypads are versatile enough to be used as furniture protectors, comfortable lounge spots for your pet, and placemats for food and water bowls. This is one of the reasons why Lennypads come in all different sizes. You can stock up on Lennypads by purchasing their popular six-pack bundles, saving you time and money in the long run.
For more information on potty training a senior dog, visit the American Kennel Club.